Case Studies: MIPRO 2.4 GHz Wireless Systems at Music China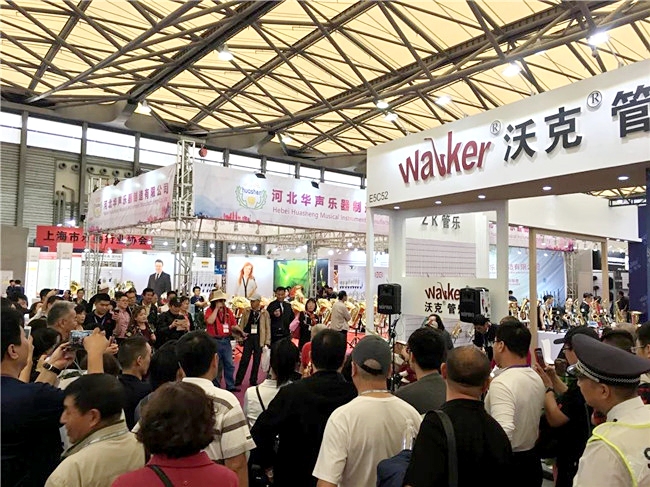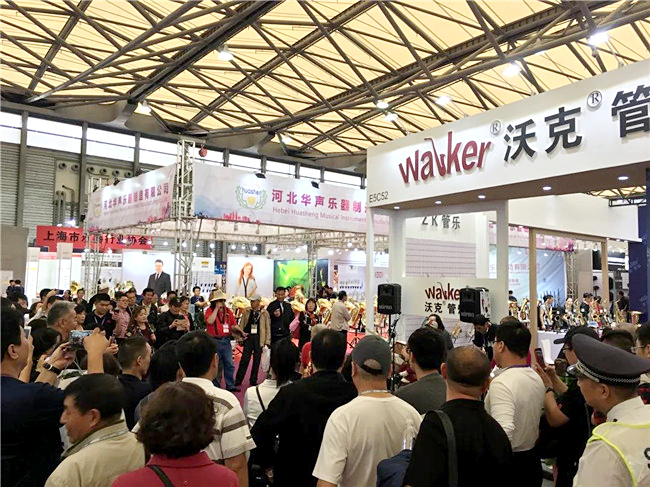 Case Study 1: Music China 2018
Music China 2018 was held from 10th to 13th October in Shanghai and MIPRO was in collaboration with 8 partners in Hall E5, as shown in【Fig. 1】. The visitors there could see MIPRO's musical instrument wireless system and hear the music playing through wireless portable PA systems everywhere.

【Fig. 1】Music China 2018 hall layout

Each MA-808 was equipped with two MRM-24 2.4 GHz receiver modules, pairing with the ST-24SA saxophone transmitter sets. Thus the instrument sound could be picked up by the ST-24SA and transmitted to the MRM-24 in the MA-808 for sound amplification. There are 10 units of MA-808 wireless PA systems and 20 units of MRM-24 2.4 GHz receiver modules in total, the system plan is shown in 【Chart. 1】.

【Chart. 1】2.4 GHz wireless system installation plan at Music China 2018

In this situation, 15 channels are required, but only 12 channels could be selected by MRM-24 receiver module. Thanks to set the different ID codes, the same preset channel could be used on different MA-808 systems well.

【Chart. 2】Channel & ID Layout at Music China 2018

Radio Interference Monitoring
1.Wi-Fi analyzer APP Monitoring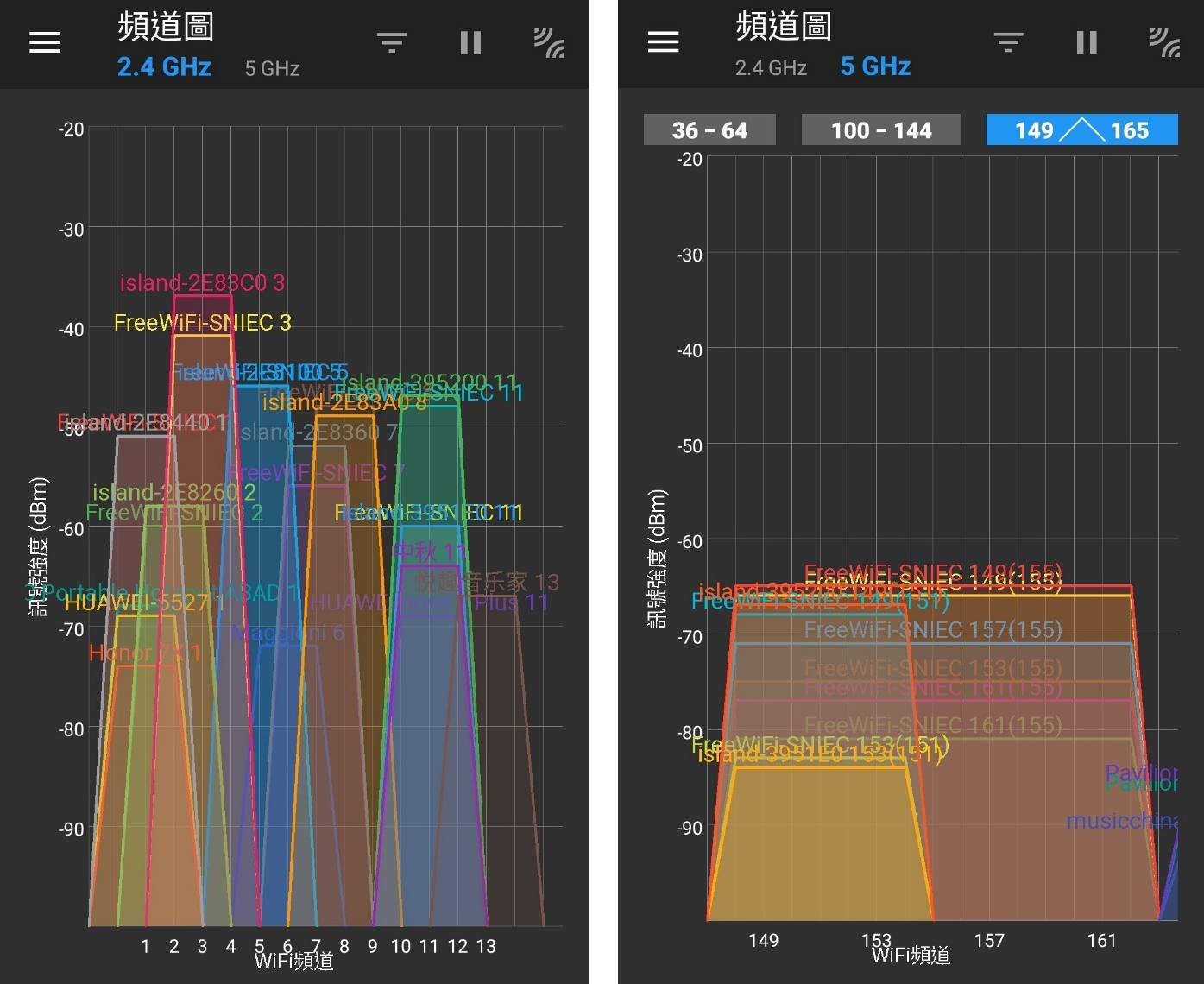 【Fig. 2】【Fig. 3】

As【Fig. 2】shows, there were so many Wi-Fi frequencies occupied in 2.4 GHz band, and all strength of these signals were over -60 dBm, the strongest one was up to -36 dBm.【Fig. 3】shows the result of 5.8 GHz spectrum, the Wi-Fi frequencies were far less and weaker than those in 2.4 GHz.
2.RF Explorer Software Monitoring
We see a more crowded spectrum by RF Explorer. It is because Bluetooth and other devices operating in ISM band are shown here.【Fig. 4】shows the signal strength and【Fig. 5】shows 3D time-frequency representations.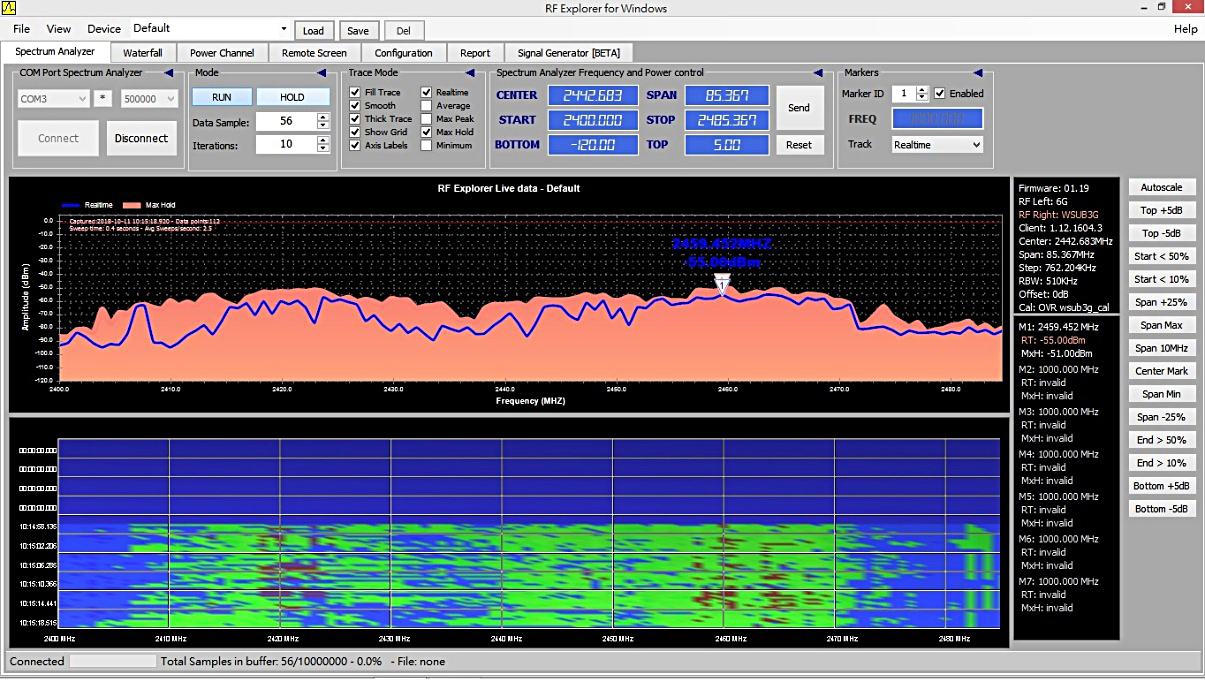 【Fig. 4】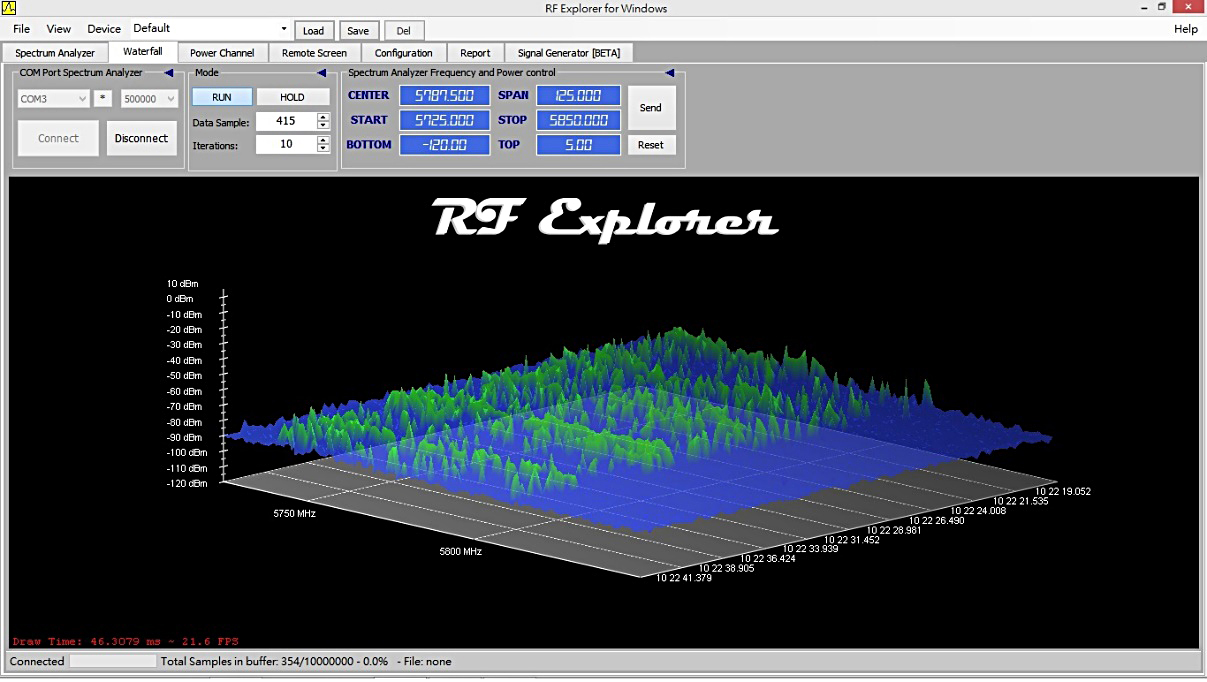 【Fig. 5】

When Walker Wind Instruments started the show, we scanned again and discovered the transmission signals of MIPRO 2.4 GHz wireless system's 3D digital diversity are quite stable, as shown in【Fig. 6】.【Fig. 6】and【Fig. 7】shows the excellent anti-interference performance by MIPRO 3D digital diversity in the crowded 2.4 GHz spectrum.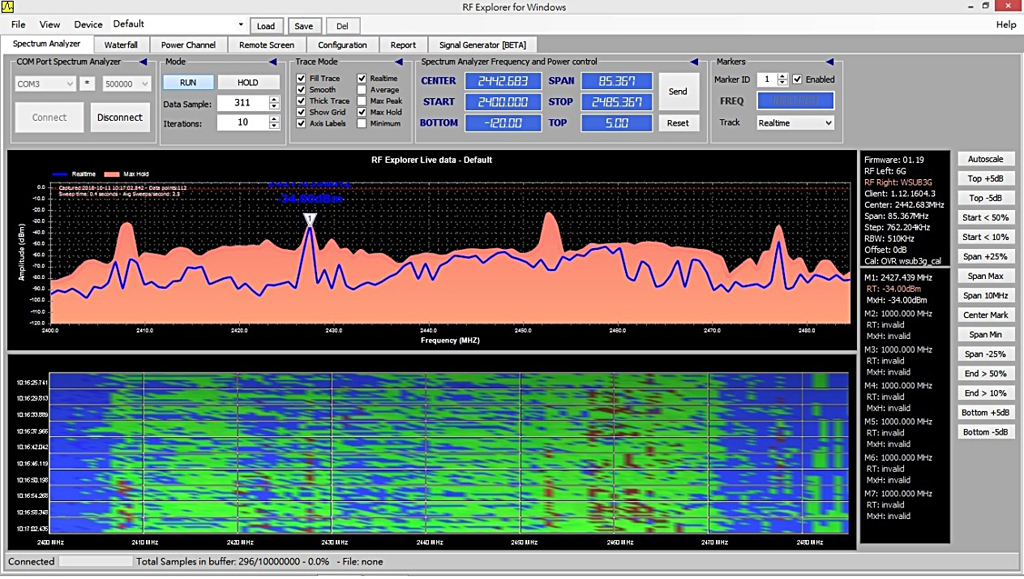 【Fig. 6】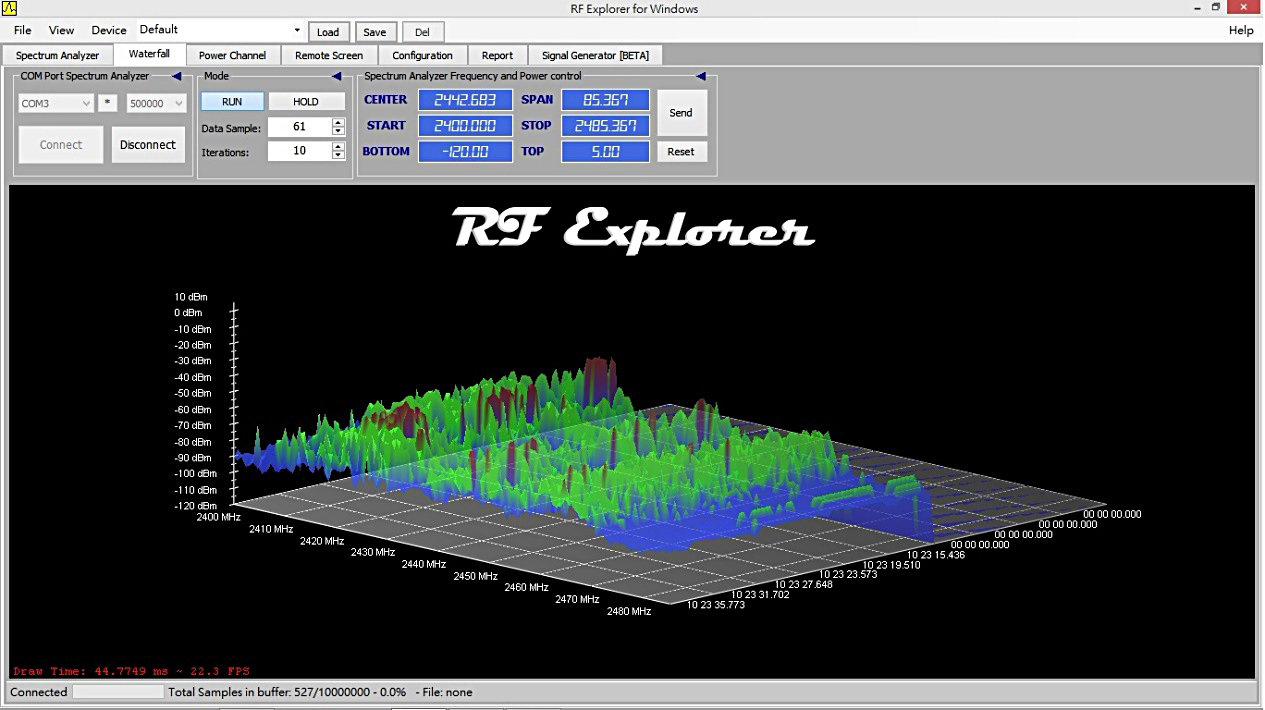 【Fig. 7】

MIPRO 2.4 GHz Wireless Systems Perform Perfect
A trade show is a place full of Wi-Fi frequencies, which are from the wireless network of the organizer and the exhibitors, the hotspots or Bluetooth connections from the visitors' mobile phones, etc. Most of them use the 2.4 GHz ISM band. As MIPRO's 2.4 GHz wireless system offers 12 preset channels and 64 ID codes, and a total of 17 channels were required, including the ACT-2401 from Saxophone Club, we apply MIPRO's exclusive CH+ID function to cope with multi-channel requirements. Faced with the numerous wireless APs, Bluetooth and hotspot sharing in the space, and most of the time the performances in 7 booths and the Saxophone Club are overlapped, thus we face dual severe challenges from not only external interference from other Wi-Fi devices but also the interference from our wireless systems. In addition, the booths of these saxophone manufacturers are in the central area and the performers even walked to the adjacent booths to play, so the interference from the nearby system is a big test, too. However, as we may see from the above charts, MIPRO's 2.4 GHz wireless system has dispelled the myth in the past, and its natural sound reproduction has been recognized by the global saxophone players.
Case Study 2: WU YUE Saxophone Elite Club Saxophone Fans Party
During the Music China 2018, MIPRO supported another event –WU YUE Saxophone Elite Club Saxophone Fans Party, held by a Chinese saxophone player, WU YUE. The saxophone fans and teachers were doing the performance in this party.
Systems:
6 × MA-808 Wireless Portable PA
12 × MRM-24 2.4 GHz Digital Receiver Module
2 × MR-24 Digital Wireless Pedal Receiver
2 × ACT-2412 Dual-channel Digital Receiver
4 × MT-24SA Alto Saxophone Transmitter Set
2 × MT-24GE Electric Guitar Transmitter Set
1 × MT-24A 2.4 GHz Digital Interlinking Transmitter
System configurations are shown as【Fig. 8】.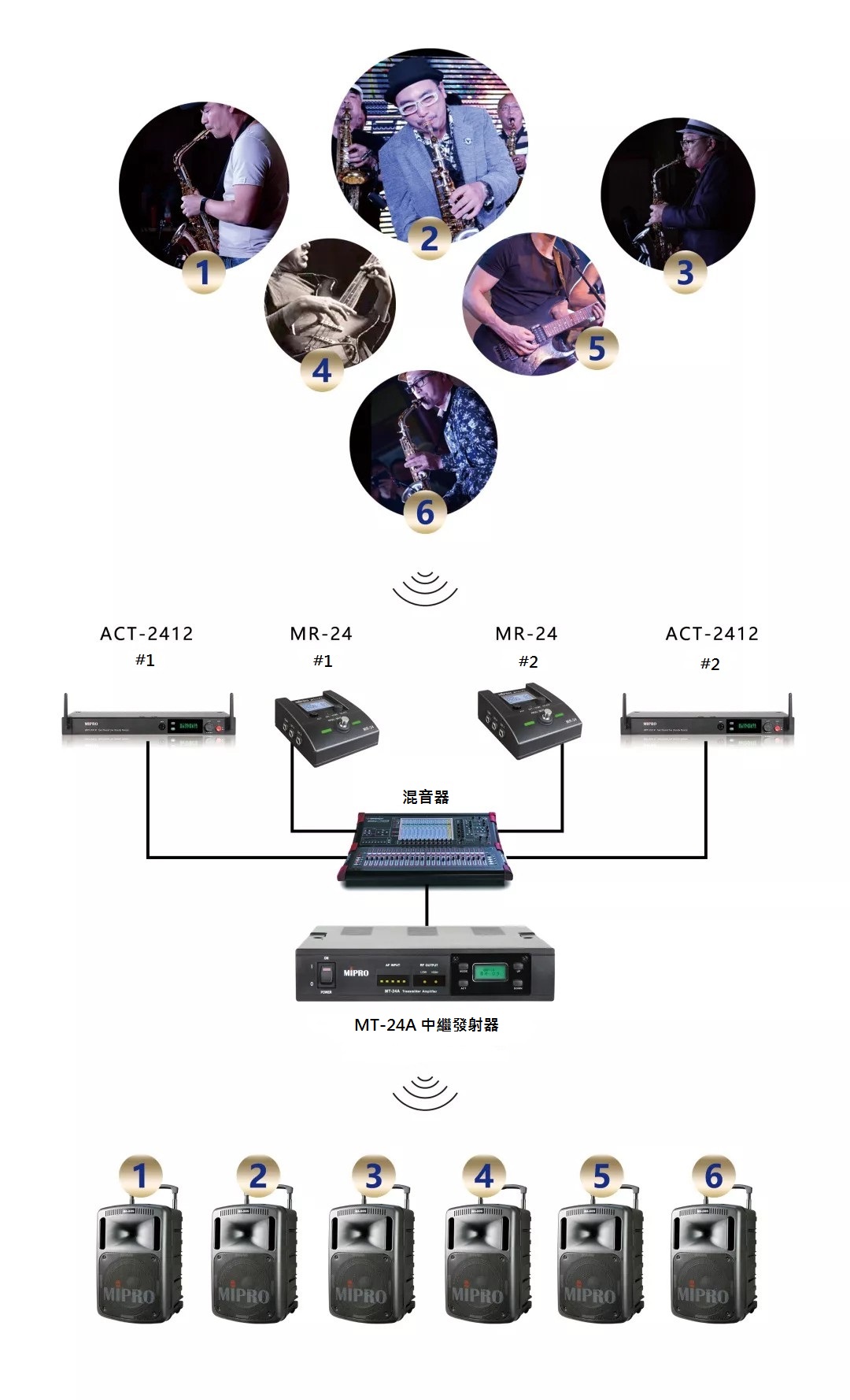 【Fig. 8】

Radio Interference Monitoring
1.Wi-Fi analyzer APP Monitoring
We scanned the spectrum at the night before the day of the event, as【Fig. 9】shows, Wi-Fi APs were near wireless systems, and its strength was up to -38 dBm.【Fig. 10】was the result on that day, when the crowds were not coming yet.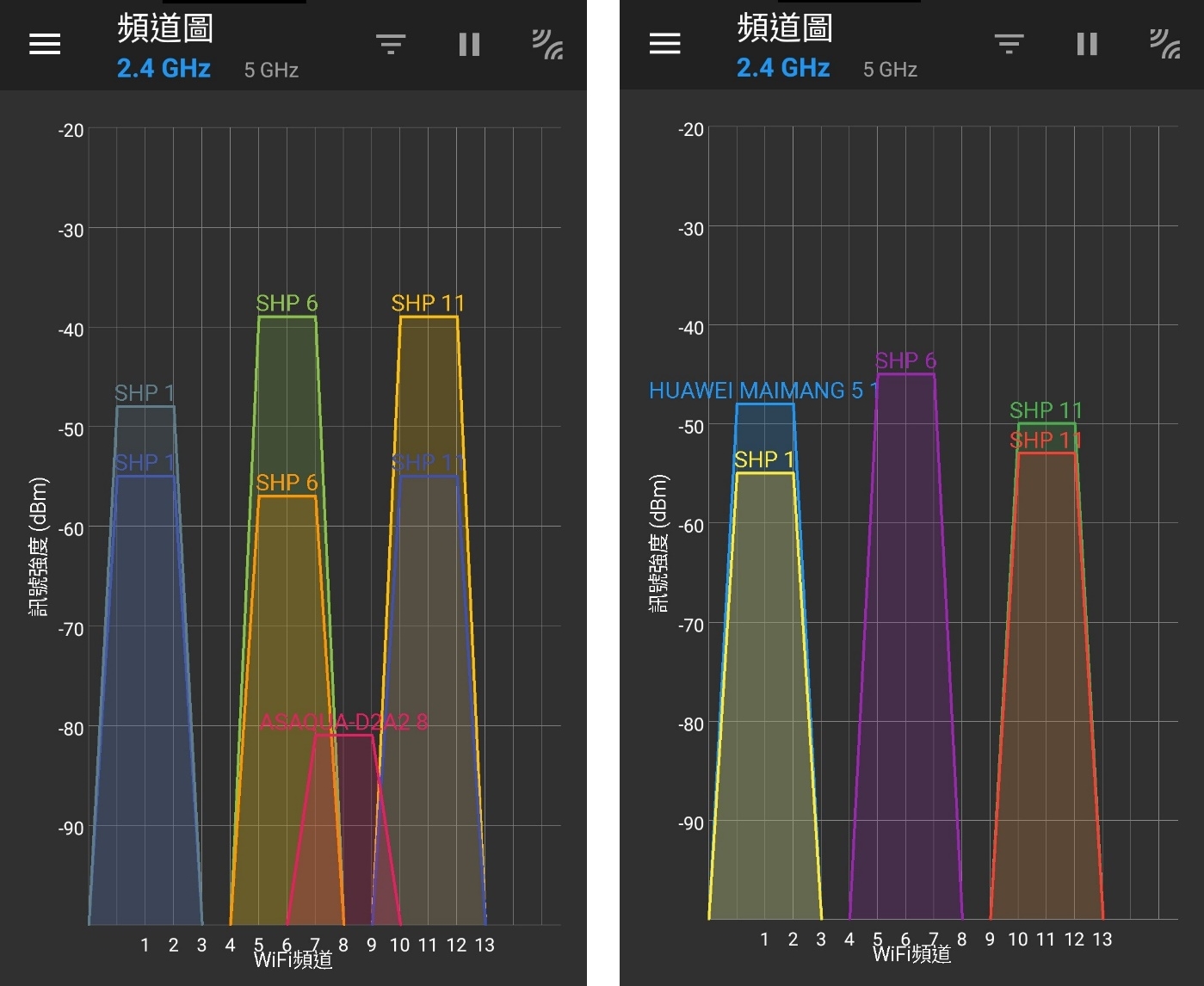 【Fig. 9】【Fig. 10】

2.RF Explorer Software Monitoring
Before the event starting, we scanned by the RF Explorer and discovered the spectrum was more crowded than that on the Wi-Fi APP, as shown in【Fig. 11】.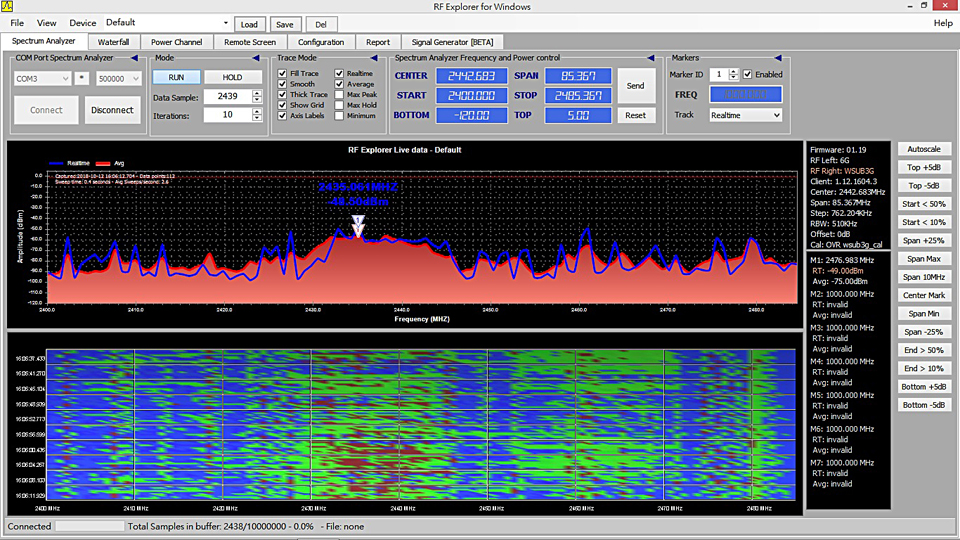 【Fig. 11】

Then we monitored four MT-24SA, two MT-24GE, and one MT-24A, a total of 7 channels used in this event. 【Fig. 12】shows the 3D digital diversity signal continuous peaks, however, each instrument transmitter set still work very well until the end.【Fig. 13】shows the 3D time-frequency representations.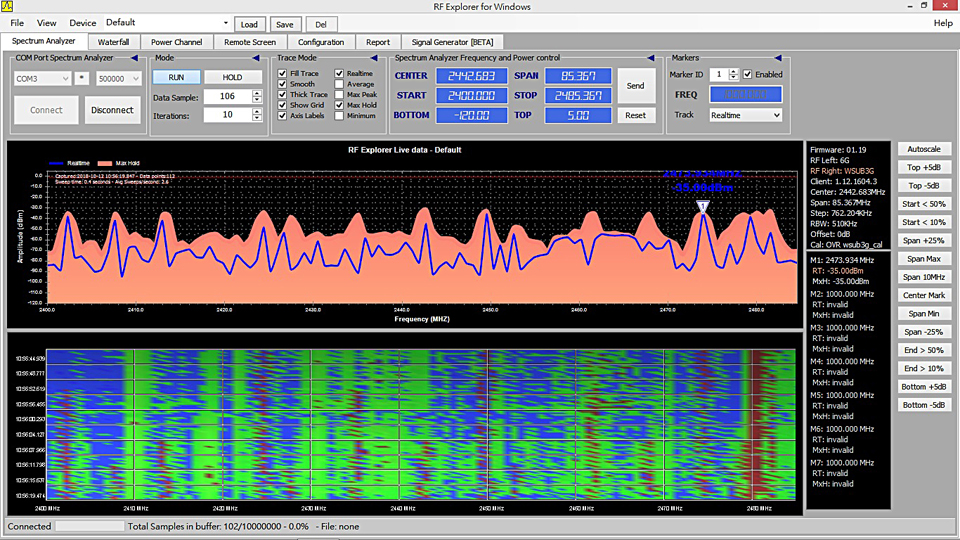 【Fig. 12】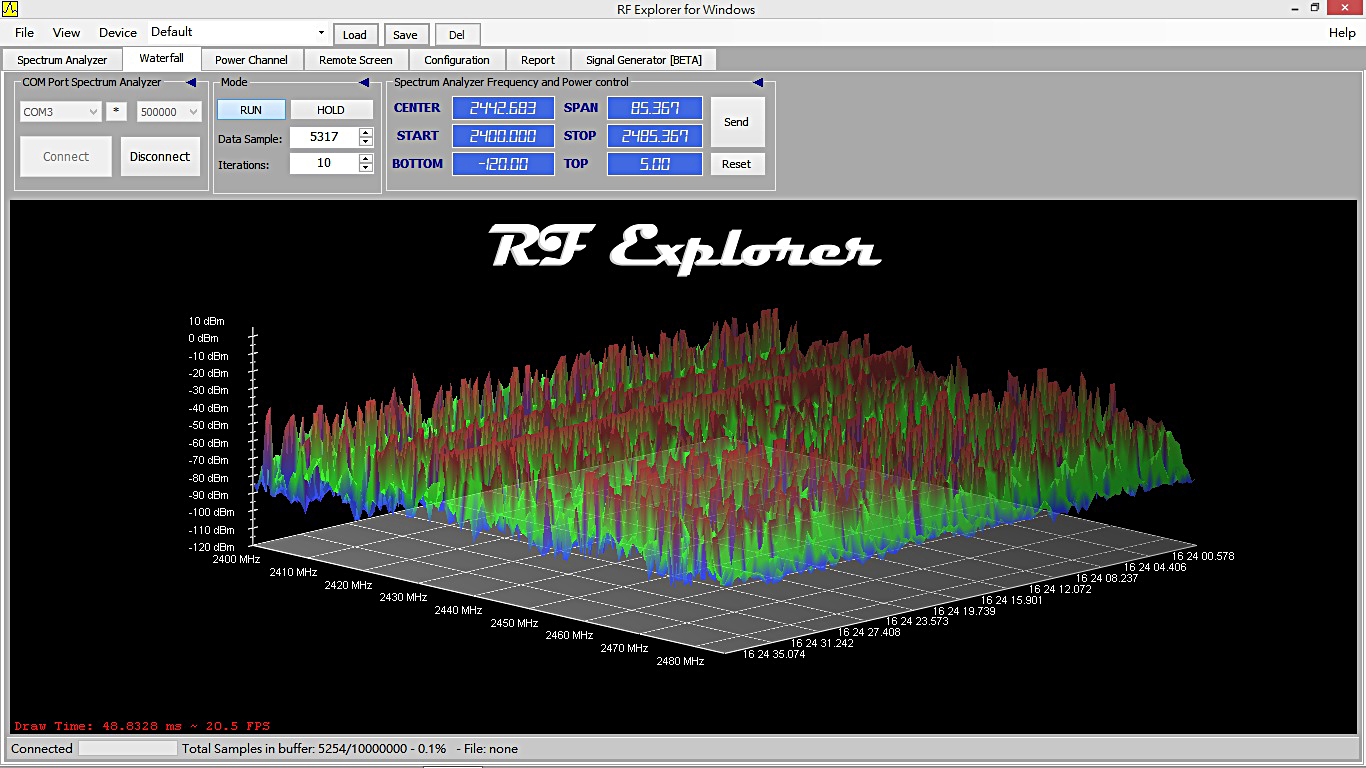 【Fig. 13】

The MIPRO headquarter engineer who assisted the frequency planning said, "The day before the event, I found that there were more than 3 wireless APs in the restaurant. Every signal was about -48 dBm or more, and the strongest one was about -38 dBm. In the past, we have not encountered such harsh environmental conditions. The party location is in a wedding restaurant, and there is a runway. The main sound system is wireless. This time, I apply 2.4 GHz transmitters on the saxophones, electric guitars and electric bass and the signal is received by the ACT-2412 and MR-24 receivers, which were connected to the mixer, and then I connect the output of the mixer into the MT-24A interlinking transmitter which transmits the signal to the MRM-24 receiver modules on six MA-808 wireless portable PA system for sound amplification.
In the beginning, I planned to use UHF interlinking transmitter, but Mr. Ho, who coordinated the event, expected all system was 2.4 GHz to ensure natural sound reproduction. Therefore, in addition to resisting the Wi-Fi and Bluetooth interference, we must ensure that the MT-24A can make its transmission successfully and do not interfere with the 2.4 GHz instrument transmitters used on the stage, not to mention there are two large pillars in the middle of the site and the console is close to the stage. Finally, CH 1~4 are used for saxophone, CH 5 is used for MT-24A, and CH 7~8 are used for electric guitar and electric bass. Once again, we verify all the preset channels of the 2.4 GHz system designed by MIPRO can effectively avoid the interference of the 1, 6 and 11 channels most commonly used by Wi-Fi."
Conclusion
Music China 2018 and Saxophone Club are two cases of MIPRO's 2.4 GHz multi-channel application. The results prove that MIPRO's 2.4 GHz MI wireless system is distinguished from other 2.4 GHz products and is recognized as a quality and reliable system.